(

cinderfallen
Apr. 6th, 2009
05:13 am
)
...okay, WTF.
I wrote about eyeliner the other day, and I did not expect it to repulse me so much. EYELINER. *madface*
K-Palette's liner was rebranded for Canada as Geisha Ink, which I found to be a pretty crass decision, but okay, it's not like I have to buy it: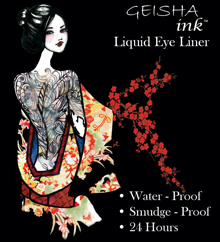 But I was browsing some Google hits and found
this article
with accompanying official press release, which the writer marvels at: "And how often does a beauty product have an entire story behind it?"
And what's the story, you ask?
At a very young age, Katsumi was sent to apprentice to be a Geisha to the city famous for its Geisha arts, Kyoto. As a young girl, Katsumi would often hide and listens to the conversations between the older Geishas and the businessmen they entertained. Nothing fascinated Katsumi more than the stories these older Geishas shared of the western world. In her mind, she yearned for the day when she would be free to experience it herself.
The combination of the art and this
charming "backstory"
.... Just. Okay. WOW.
*stabstabkillkillKILL*
Seriously. KILL.